Dentist in Dagenham, Essex

The staff are all very helpful, and try to accommodate me in every way they can.

K Smith
Why Choose Us
Our Team
Inspire Dental offers both NHS and Private dentistry with both male and female dentists. We have an independent Periodontist, an orthodontist, and in-house Hygienist.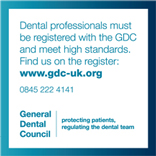 All our dentists adhere to the rules governing the profession under strict guidance from the General Dental Council (GDC) "Standards for Dental Professionals".
Dentists
Kalpit Patel
BDS Lond 2002
GDC Registration No. 80991
Qualified from the St. Barts & Royal London Hospital School of Medicine and Dentistry in 2002. Carried out VT training at Upton Park Dental Care and stayed on for 6 years. Started at Inspire Dental in 2008. Is a general dentist, interested in restorative dentistry. Has a certificate in restorative dental practice from the Eastman Dental Institute.
Kalpit is a member of BDA, and speaks English and Gujarati
Mala Sabharwal
BDS Cardiff 2013
GDC Registration No. 245222
Ioanna Anastasiadou
Dentist Dip DS Thessaloniki 2007
GDC Registration No. 158740
Bhumika Patel
BDS Lond 2013
GDC Registration No.245103
Cotiso Fara
DMD Bucharest 2001
GDC Registration No. 113774
Orthodontist
Christina Evaghoras
BDS Lond 1997, MFDS RCS Eng 2000, MOrth Lond 2003, MOrth 2004
GDC Registration No. 73441
Dr Christina Evaghoras was educated in North London before studying dentistry at Guy's Hospital. Christina qualified as a dentist in 1997. In the year that followed she worked at Guy's gaining further experience in maxillofacial surgery, children's dentistry and oral Medicine. A year in general practice was then followed by further experience in surgery and orthodontics.
Christina's passion for orthodontics earned her a place on the specialist training course at Guy's Hospital. She completed her Masters in Orthodontics from the University of London in 2003, and in 2004 gained the Membership in Orthodontics from the Royal College of Surgeons of England. Since then Christina has worked in specialist practice, providing orthodontic care to both children and adults. A number of years working with children with special needs and anxiety in a dedicated clinic have further enhanced her skills.
Christina aims to provide the best results for her patients, whether their problems are simple or complex. Adults and children alike are treated with up to date, evidence based orthodontics, including "invisible" or ceramic braces when appropriate.
Hygienist
Cara Green
Hygienist Dip Dent Hyg & Therapy RCS Eng 2015
GDC Registration No. 258840