Dentist in Dagenham, Essex

The staff are all very helpful, and try to accommodate me in every way they can.

K Smith
Why Choose Us
Our Team
Inspire Dental offers both NHS and Private dentistry with both male and female dentists. We have an independent Periodontist, an orthodontist, and in-house Hygienist.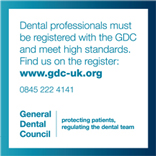 All our dentists adhere to the rules governing the profession under strict guidance from the General Dental Council (GDC) "Standards for Dental Professionals".
Dentists
Kalpit Patel
BDS Lond 2002
GDC Registration No. 80991
Qualified from the St. Barts & Royal London Hospital School of Medicine and Dentistry in 2002. Carried out VT training at Upton Park Dental Care and stayed on for 6 years. Started at Inspire Dental in 2008. Is a general dentist, interested in restorative dentistry. Has a certificate in restorative dental practice from the Eastman Dental Institute.
Kalpit is a member of BDA, and speaks English and Gujarati
Rachael O'Flaherty
BDS University of Liverpool 2017
GDC Registration No. 270668
Rachael graduated from the University of Liverpool in 2017. Since graduating Rachael has worked as a general dentist in London and Liverpool. While training in London Rachael was on the LonDEC King's scheme and benefited from courses on white fillings, dentures, root canals and gum treatments, led by world renowned UK dentists.
Rachael enjoys all forms of NHS dentistry and likes to be busy. She has also completed cosmetic training in Botox and fillers, composite bonding with Enlighten Mini Smile Makeover, as well as short term with the IAS academy.
Kieran O'Brien
BDS London 2011
GDC Registration No. 212915
Coming soon...
Koyal Khanna
Statutory Exam 2010, BDS Manipal 1999, BDS MDS (Ortho) MFDS RCS (Edin) PG Cert Ortho (London)
GDC Registration No. 200880
Practice Exclusive to Orthodontics.
Koyal graduated from the prestigious Manipal University in India. She was awarded several certificates of merit for her academic and clinical achievements during her undergraduate studies. She completed her postgraduate training in Orthodontics from the same university in 2002 and worked as an orthodontist at private practices in India before permanently moving to the UK.
Koyal completed her registration exams in the UK and was also awarded membership to the Royal College of Surgeons on the successful completion of these examinations. She has been working at orthodontic practices in the UK since 2014 providing a wide variety of treatments to children and adult patients ranging from simple to complex malocclusions.
Koyal is currently completing a Masters in Aesthetic Medicine from Queen Mary University London to enable her to offer patients non-surgical options for treatment of gummy.
Koyal offers her patients a holistic approach, always putting their best interest first and endeavours to provide the highest standard of care to her patients by regularly updating her knowledge and skills. Koyal is a member of the British Orthodontic Society.
Iqra Farhad
Stat Exam 2016 BDS Khyber MU 2009
GDC Registration No. 268699
Dr Iqra Farhad graduated from Ayub Medical College, Khyber Medical University Pakistan with distinctions and gold medals. Her hard work, self-motivation and determination enabled her registration with GDC as a Dental Associate in 2016 with completion of ORE.
Dr Farhad offers the best possible care to all her patients keeping their best interests in mind. She has a friendly nature which helps her treat anxious patients without any problems. She enjoys all aspects of dentistry and takes difficult extractions as a challenge and feels it's always rewarding bringing the patient out of pain.
Dr Farhad is always keen in expanding her knowledge and has undertaken a CFast course for quick correction of malalignment and aesthetic courses for Botox and fillers. In the future, Dr Farhad is planning to undertake post-graduation in Oral surgery to further enhance her skills and knowledge.
Additional languages spoken: Urdu, Hindi, Punjabi
Ferouze Mattan
BDS Queen Mary University of London 2021
GDC Registration No. 296769
Coming soon...
Kaamil Farooqi
BDS University of Sheffield 2015
GDC Registration No. 259141
Coming soon...
Omair Ahmed Mirza
Dr Med Dent University of Pécs 2017
GDC Registration No. 273839
Coming soon...
Habib Osman Jeilani
MDDr Palacký University Olomouc 2020
GDC Registration No. 290101
Coming soon...
Oluwatosin Oshiga
Statutory Exam 2005
GDC Registration No. 100444
Coming soon...
Balal Hussain
BDS Lond 2011
GDC Registration No. 213068
Coming soon...
Hygienist/Dental Therapist
Cara Green
Hygienist Dip Dent Hyg & Therapy RCS Eng 2015
GDC Registration No. 258840
Cara qualified in 2015 from Kings College London with a combined Diploma in Dental Hygiene and Therapy. Prior to this, Cara graduated from Queen Mary, University of London with a degree in Biomedical Science. She has recently published research on archaeological patterns of oral health in medieval skeletons.
Cara's extensive medical and scientific knowledge helps her identify underlying health conditions that may affect a patient's gum disease. Her varied experience in private, NHS and community clinics means that Cara is able to treat different severities of gum disease and is comfortable accompanying a patient throughout their full course of treatment.
Cara is an enthusiastic Hygiene Therapist and prides herself on her gentle approach. She thoroughly enjoys educating patients in all aspects of their oral health and strives to ensure all patients leave the practice knowing how to achieve the most from their oral hygiene routine.
Chineye Nnamani
BSc Dental Hygiene and Dental Therapy University of Plymouth 2022
GDC Registration No. 303061
Coming soon...